Went shoppin' yesterday--finally purchased
Gyakuten Kenji
Ace Attorney Investigations: Miles Edgeworth (still can't get used to that title ._.) AND Bayonetta. *0* I had lots of fun
breakdancing
I mean I mean um killing angels in Bayonetta and am currently investigatin' stuff as Edgey. But I also went into Kinokuniya yesterday and in the children's section found... Professor Layton novels! Which of course I had known about but didn't realise were quite so very long ;0; so of course I didn't get them, no way I can read that stuff... though I did enjoy looking at them, I really like the way the covers look and stuff. Very classy. There were two different hardcovers, one blue and one red.
Just as I was going to leave, though, I spotted another PL book! Oh Professor Layton, you are stealing all the money Yu-Gi-Oh never managed to drag outta me on account of having much classier merchandise :x aggh. In other words, I gave in and bought more PL stuff. e_e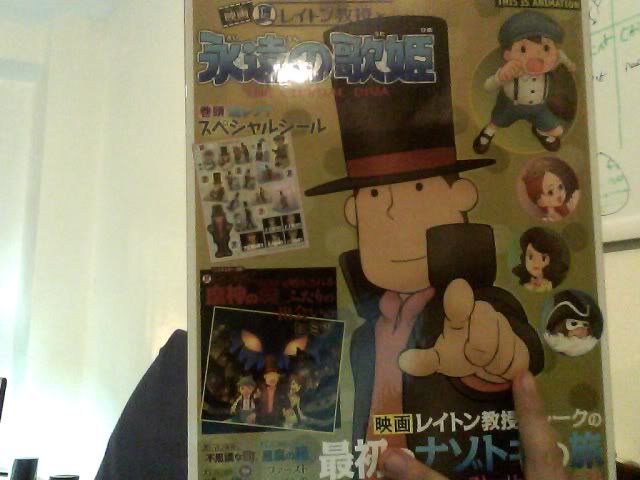 what do you mean this isn't what webcams are for
It's a really cute little booklet that covers the plots of all the games and the movie, along with lots of character profiles and really really nice screenshots because they are nice quality straight from the vids rather than from the games. :3 Awesome!
... Mostly I bought it because it came with stickers, though. Ahahaha! Heh. Um.
(
Collapse
)
May scan this thing properly when I have time.
(
Collapse
)
(
Collapse
)
Ok, back to investigating, ace prosecutor-style! Whoohoo, &c!